Distribution of Ash trees in Devon
Ash trees within woods
Devon has some 11,000 ha of ash in its woodlands. This represents 22% of all broadleaved woodland in Devon. Across Britain, Devon has the sixth highest proportion of its land covered in ash woodland, at 1.53%.
Ash trees outside woodlands
There are at least 1.9 million full grown or nearly mature ash trees outside woodlands in the county.
As a hedgerow tree, ash is our second most frequent tree after oak and as a component of the shrub layer of hedges, the fourth most frequent species after blackthorn, hazel and hawthorn.
Ash trees alongside roads
There are some 448,000 ash trees within falling distance of a highway in Devon. 99% of these trees are the responsibility of private landowners.
In 2012, Devon County Council counted ash trees with stems larger than baked bean can size (7.5 cm diameter) along sample lengths of approximately 30km of A roads and 10km each of B, C and unclassified roads, across all planning authority areas in Devon except Torbay and Plymouth. This enabled them to produce an estimate of 448,000 trees alongside the county's 13,000 km of road (see table), excepting Torbay and Plymouth. Of these, the great majority (98.6%) are considered the responsibility of the landowner, the Highways Authority being responsible for just some 6,300 trees. The average number of trees per km was 12 for A roads, 21 for B roads, 36 for C roads and 33 for unclassified roads.
Estimated total number of ash trees within potential falling distance of highway in each local authority area in Devon except for Torbay and Plymouth
Devon County Council 2012
| Local authority area | Estimated number of ash | Ash/km |
| --- | --- | --- |
| South Hams | 30,811 | 16 |
| West Devon | 74,487 | 50 |
| Torridge | 49,532 | 29 |
| North Devon | 45,284 | 22 |
| Mid Devon | 58,527 | 33 |
| East Devon | 103,644 | 53 |
| Teignbridge | 85,028 | 51 |
| Exeter | 325 | 8 |
| Total | 447,639 | 263 |
Ash trees in Devon's towns and cities
In urban and other built-up settings, ash trees are frequent within parks and gardens and alongside roads.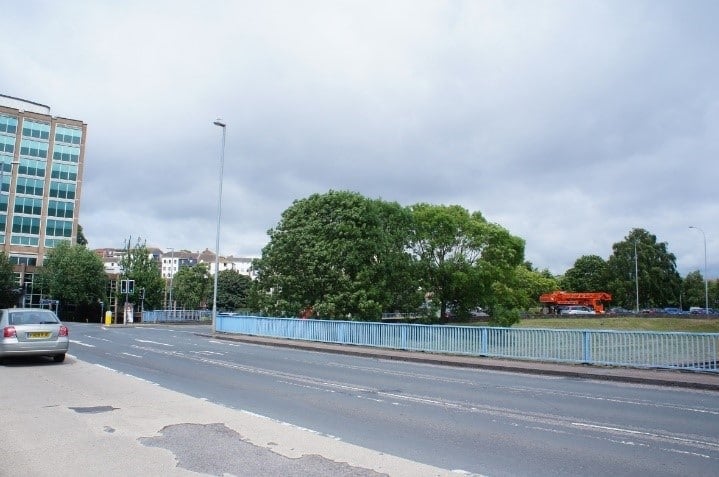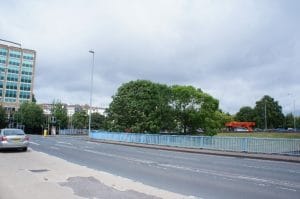 In Torbay there are c. 95,000 ashes (with trunks >2.4 cm in diameter). Only Leyland cypress is more numerous, and ash has the greatest leaf area of all species. Figures are not available for other major conurbations.
During 2011 an i-Tree investigation was undertaken in Torbay. The number of ash trees over 2.4 cm diameter at breast height was estimated to be nearly 95,000, second only to Leyland cypress. Furthermore, ash was reckoned to contribute the largest (19.5%) leaf area of all species present. Ash is more prevalent in Torbay, comprising 11.6% of the total number of trees, than in other UK urban areas where the average is 4.1%. The cost of replacing Torbay's ash trees was estimated to be £38M.
An i-Tree Devon survey carried out in the Sid Valley in east Devon by volunteers in 2014 found that ash cover was second only to that of Douglas fir, occupying 18% of leaf area. The report concluded that the loss of ash would have by the far the greatest impact of any tree on society in terms of the benefits that trees have to offer.
Devon County Council estimates there are 3,100 trees within the grounds of the 329 schools that it is responsible for, and across the council's estate as a whole (which does not include any parks), 3,900 trees.
Species either entirely or mainly dependent on ash known to occur in Devon
| Species | | |
| --- | --- | --- |
| Beetle | | Cryptophagus ruficornis |
| Beetle | | Hylesinus orni |
| Fly | A gall fly | Dasineura fraxini |
| Fly | | Lonchaea mallochi |
| Fungus | | Cryptosphaeria eunomia |
| Fungus | | Diaporthe samaricola |
| Fungus | | Phoma samararum |
| Fungus | | Phyllactinia fraxini |
| Lichen | | Caloplaca flavorubescens |
| Lichen | | Catapyrenium psoromoides |
| Lichen | | Collema nigrescens |
| Lichen | | Wadeana dendrographa |
| Moss | Lesser squirrel-tail moss | Habrodon perpusillus |
| Moth | Centre-barred sallow | Atethmia centrago |
| Moth | Tawny Pinion | Lithophane semibrunnea |
| Moth | Micro-moth | Prays fraxinella |
Priority species for conservation association under the NERC Act 2006
Examples include the string-of-sausages lichen Usnea articulata, eagle's claws lichen Anaptychia ciliaris, centre-barred sallow moth Atethmia centrago, brown hairstreak butterfly and hawfinch. Wherever these species are present, or suspected, every effort should be made to try to ensure continuity of habitat. Details of section 41 species found in Devon can be found in the Devon Local Nature Partnership Long List.
Devon has a particular responsibility in a British context for the conservation of two S41 species associated with ash. The first is the globally rare lichen Wadeana dendrographa. This occurs on the well lit bark of old trees, mainly ash, in stable habitats. Devon, along with Dorset and Cornwall, is a national stronghold for it. The second is the multi-fruited Cryphaea moss Dendrocryphaea lamyana.  Devon is the major British stronghold for this threatened species which occurs on rock and trees, including ashes, growing on the edges of some of our major rivers. See the Devon Local Nature Partnership Long List for information on other special species occurring within Devon for which we have particular conservation responsibility. There are 96 in all.
Ash Dieback and its effects in Devon
Distribution of the disease in Devon
Forestry commission mapping shows that Ash dieback is present across the UK, including Devon.
Scale of the problem
In woodlands, the consensus is that over 90% of ashes will be either dead or severely affected within 5 – 15 years.
Outside woodlands, the current majority view is that c. 50% of ashes will be severely affected within 5 to 15 years, to the stage where they are at least likely to shed large limbs. There is considerable uncertainty about this, however, and over 90% may be so affected.
Costs and financial risks
The typical cost of felling and removing a mature roadside tree is about £800 – a conservative figure where traffic has to be controlled.  Smaller trees will cost less, and where lines of tree can be removed at the same time unit price will fall, so an average cost per tree may be £400.  The use of specialised tree removal equipment such as excavator-mounted tree shears may reduce the costs further.
Assuming 90% mortality and based on a figure of £400 per tree, the potential total cost to farmers and others could be in the order of £160 million! Even if just 50% of trees are so badly affected that they're at risk of shedding limbs onto highways, considerable short-term strain will be placed on financial reserves or labour.
Say a farmer has 100 large ash trees bordering roads or paths, and that 50% of these become unsafe within a period of 10 years, then they may have to find £2,000 each year to manage the risks. The situation will be made more difficult to manage if there is a shortage in trained and insured tree surgeons available to do the work: rogue operatives may cause further problems
Based on Devon County Council's 2014 reporting to Cabinet, the cost to DCC of felling diseased ash trees was estimated at c.£2.5m, and the cost to the private sector is estimated around £70m.
Responsibility
99% of the 448,000 ash trees within falling distance of highways are the responsibility of farmers and other landowners. The Highways Authority is responsible for only about 6,300 trees.