The launch of the ambitious "Saving Devon's Treescapes" project has been marked by the planting of its first trees.
Backed by the National Lottery Heritage Fund, Devon County Council and others, the initiative forms part of Devon's efforts to address the huge loss of trees as a result of ash dieback. More than 90% of Devon's native ash trees are expected to be lost due to ash dieback in the next five to 15 years.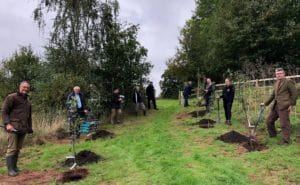 Saving Devon's Treescapes aims to support local communities to plant and nurture 250,000 trees across the county over the next five years – with a particular focus on trees outside of woodlands.
Devon Wildlife Trust is leading on the project on behalf of the Devon Ash Dieback Resilience Forum. Through community engagement, the initiative will enable people to care for and celebrate the county's treescapes, supporting local action for wildlife and climate change.
The initial planting was carried out at the County Show Ground at Westpoint on land that will become a new orchard, and also marks the start of the tree planting season. Plans are already in place to plant many thousands more trees and shrubs at sites across Devon over the winter months.